Cargo Van Rental Locations
Find the best cargo van rental locations below.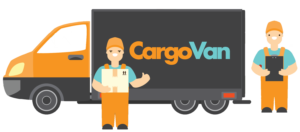 DIY VS. Hiring 2 or 3 Movers With a Cargo Van or Truck.
Planning a DIY move or hiring full service movers just got a lot easier with CargoVan.com, The only place online where you can compare Cargo Van rental costs to hiring 2 or 3 men with a cargo van or truck to handle all the moving for you.
Economical Way To Move
Cargo van rental can come in very handy for people who are moving. The costs of working with a full-service company that specializes in moving can often be very outrageous, to say the least. If you're interested in the idea of moving in an economical manner, then our dependable company can be a major asset to you. We have some superb deals on cargo van rental waiting for you. If you're enthusiastic about the concept of moving without having to spend an arm and a leg on a moving company, we can help you out.
DIY Approach To Moving
Although our cargo van rental assistance can help you cut down on moving costs significantly, there are other perks involved, as well. If you take a more DIY approach to moving, you can have a bit more independence and freedom. If you like the idea of taking your time during your moves, renting a cargo van and going solo can be very intelligent.
Renting a Cargo Van One Way
Our company's available cargo van rentals are all very spacious and clean. If you want to rent and drive a safe, secure and reliable cargo van, we're at your service. Since our cargo vans are so spacious, fitting your possessions into them is often a piece of cake. Whether you're packing furniture, boxes, crates or anything else, there should be plenty of room to spare in our vans. If you rent one of our cargo vans, you can recruit family members and friends to assist you with the moving process. If you'd like to take a more streamlined and simple approach to moving, handling things alone and with people you know very well can be highly beneficial. The objective at our company is to always be as transparent with our customers as possible. If you want to learn more about our available cargo vans, feel free to contact us at any time with any questions you might have. Our staff members are all luckily some of the friendliest and most knowledgeable folks around. If you want more details on our cargo vans and rental policies, we can aid you. We always want our customers to be 100 percent comfortable renting vehicles from us.
Long Distance Movers Comparison
If you're moving and reject the concept of paying a lot of money to full-service
long distance movers
, contact us as soon as you can to learn about our available cargo van options. Customer service is extremely important to us.
Cargo Van Rental One Way
A one way cargo van rental is a great alternative when it comes to moving out of state.